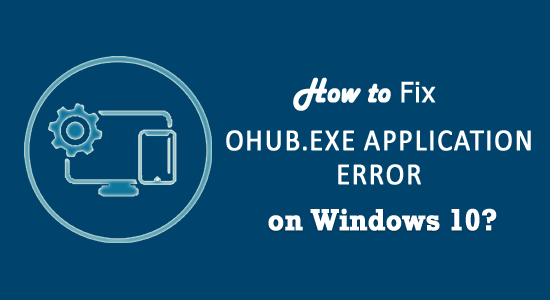 Windows 10 users are suffering from lots of error, OHUb.exe Application Error is one of the irritating errors among them that start appearing when the user upgrades their system to Windows 10.
This error is related to any components of the Microsoft office, and the user gets an OHUb.exe error every time when they run Windows 10.
The error usually occurs when the OHUb.exe file gets damaged, corrupt or misplaced from its actual location. This happens because of lots of reasons such as computer viruses/malware, unintentionally deletion, the actual file gets replaced with any other files and more.
All of these situations lead to error messages when related applications are executed. If you are also encountering OHUb.exe error then go through this article to get the solutions and fix them.
Some Related OHUb.exe Application Error Message:
Below are some of the related OHUb.exe Application Error message that appears on the screen, have a look at them:
"OHub.exe Application Error."

"OHub.exe is not a valid Win32 application."

"Cannot find OHub.exe."

"OHub.exe has encountered a problem and needs to close. We are sorry for the inconvenience."

"OHub.exe not found."

"Error starting program: OHub.exe."

"OHub.exe is not running."

"OHub.exe failed.

"Faulting Application Path: OHub.exe."
Method 1 – Reinstall Office
In this method, try to reinstall the office package. This trick is not very effective but it works sometimes. First, uninstall the office and scan your PC with the Windows registry cleaner, this tool will remove all types of relating junk files from the system.
Restart your PC and again install office on your PC/laptop, check that error is still appearing or not. If this method fixes the OHUb.exe Application error then OK, otherwise go with method 2.
Method 2 – Uninstall/Remove Get Office app
If you are unable to fix this issue after applying method 1 then the problem is not a bad installation of Office. And the main culprit of this issue is a Get Office app that comes with Windows 10.
You need to uninstall or remove it; you can find it at the Start Menu of Windows 10. Apply the below-given steps to fix it:
Click on the

Start Menu

to open it and find the

Get Office app

.
Right-click on the app and select

Uninstall

from the menu.
Reboot your

Windows 10 computer

or laptop
By the successful completion of method 2, the OHUb.exe Application Error issue must be solved.
Method 3 – Run SFC Scan
OHUb.exe Application Error also occurs in Windows 10 when your system files get corrupted or damaged. Therefore, to solve this error perform an SFC scan in your system.
Follow the steps to do so:
Press the

Windows

icon
Type

cmd

, right-click on it and select

run as administrator
In the command prompt window, type

sfc/scannow

and press the enter key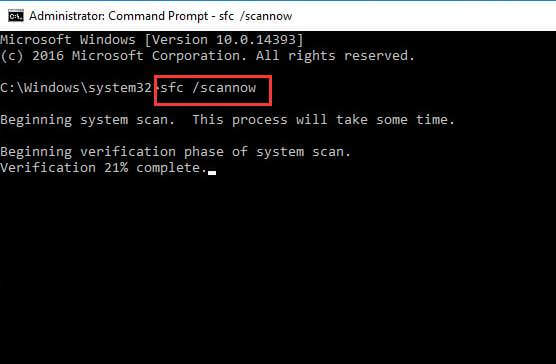 Wait for the scanning process to get completed.
Once the scanning is done restart your PC and check if the OHUb.exe Application Error got resolved or not.