Are you unable to upgrade your Windows system to the Windows 10 operating system due to Error 0x80070070?
Or your system showing 0x80070070 error message while installing or upgrading to a new version of Windows 10?
Getting error popup (Error 0x80070070) during the installation of the Fall Creators Update or other available updates?
If YES, then don't worry as you can easily get rid of 0x80070070 error, read this tutorial till the end, and apply the given solutions carefully.
With the help of given fixes you can also get rid of several other update error codes such as error code 0x50011, – 0x50012, or – 0x60000 and more.
Now, the point is why this error code is appearing every time and how to fix the error 0x80070070 during the installation process.
The main causes behind any of the three error messages (0x80070070 – 0x50011, 0x80070070 – 0x50012, 0x80070070 – 0x60000) is; your computer or laptop doesn't have enough space to successfully finish the upgrade.
Despite this, there are other reasons as well below check them out:
Why I am getting Windows 10 Upgrade Error 0x80070070?
There are several other causes behind the error code 0x80070070, and few of them are:
Lack of computer resources such as memory and more

Infection of computer Virus and Malware

A clogged or corrupted registry key
Once your system displays this error code, from that time you will become unable to execute several other tasks or actions.
You cannot install any of the available updates on your

PC or Laptop

.
If you want to update the installed apps then you will receive an error message.
You can't add any additional apps or software.
If your system is infected with the computer Virus or Malware, then it may also corrupt other important files related to the

System, User, media,

etc.
That's all about the error, now coming to the solutions of 0x80070070 error message.
Apply the below-given fixes one by one and after applying each solution try to upgrade or update your system and check for the issue.
How Do I Fix Error
0x80070070 in Windows 10?
Fix 1: Free System Space using Disk Cleanup
This solution will help you to free the space on your drive. First, you have to check your system driver to get the idea of how much more space you required.
In order to clean your system drive, you should go with a preinstalled tool available on your PC. It is known as "Disk Cleanup tool"
Follow the below-given steps to up hard drive space and optimize the PC performance.
Go to the Start menu and browse the

Explorer option

. Choose "

This PC

" and right-click on the

C drive

then select

Properties.

Now, select the

Disk Cleanup

sub-option.
In this window, you will see several options to clean up. (Especially

error logs, temp files,

and

Recycle Bin,

etc.).
Once you are done. Click on the

OK

button for

Disk Cleanup

.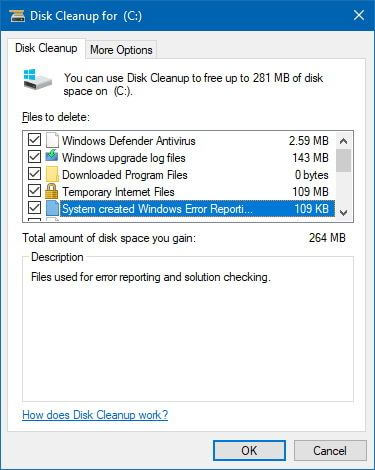 Now check if the error code 0x80070070 in Windows 10 is fixed, but if not then follow the below-given solution.
Fix 2: Storage Sense to Free up System Space
If you are getting this error message while running the Windows 10 Creators Update then you should go with the Storage sense to free up space. This is an inbuilt tool that works for you to fix error 0x80070070.
Open

Settings

and click on

System

>

Storage

.
Under the "

Storage sense

" option, click on the

Change how we free up space link

.
Now, you have to turn on the toggle switch for:

Delete temporary files that my apps aren't using

and

Delete files that have been in the recycle bin for over 30 days.

Click on the

Clean now

button.
Fix 3: Delete System's Temporary Files
Many times the temp files stored in the system may infiltrate with the latest update and cause Windows 10 update error 0x80070070.
So, delete the temp files and check if the error is fixed or not.
Follow the steps to do so:
Open the System

Settings

> click on

System

> click on

Storage

.
Now, you have to click on the primary drive, i.e.

This PC (C:) drive

.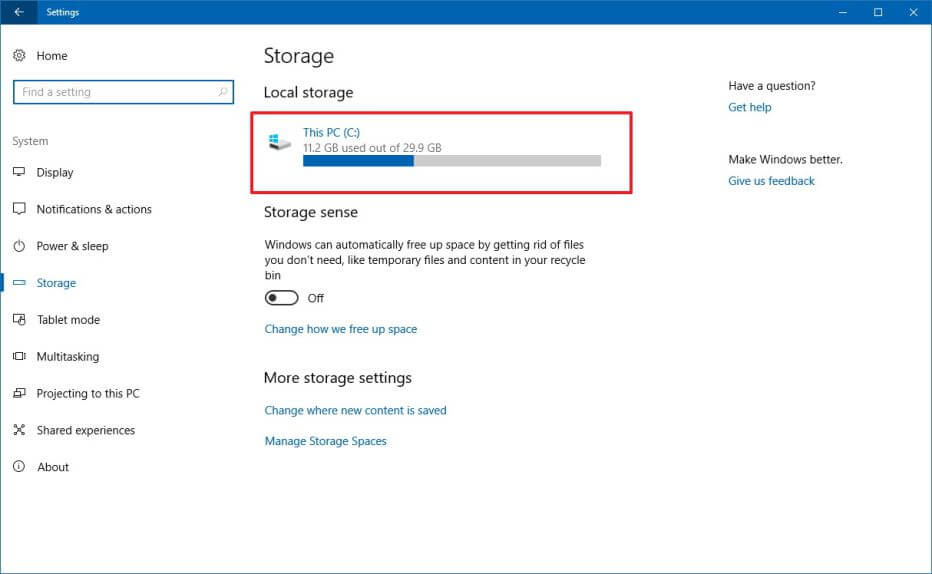 Click on the

Temporary Files.
Choose the files that you want to erase.
Note: Temporary files include those temp files from apps, files present in the Downloads folder, recycle bin files, and old installation files.
At last, click on the

Remove files

to finish this task.
Fix 4: Reset Windows Update Components
Sometimes, due to the corrupted Windows Update Components, you may face this error code. Hence, to overcome this type of situation you have to reset the Windows Update Component manually.
Follow the below-given steps carefully to reset the Windows Update Component:
First, you have to open the command prompt with admin privilege. To do this, right-click on the

Windows

button and choose the

Command Prompt (Admin)

.
After opening the command window, now you have to run several commands one by one. Type the given commands one by one and press the

Enter key

after each of them
net stop wuauserv
net stop cryptSvc
net stop bits
net stop msiserver
Now, you need to change the name of

SoftwareDistribution and Catroot2 folders

. To do this, run the following commands in the Command Prompt window separately (hit

Enter

after each of them)
ren C:\Windows\SoftwareDistribution SoftwareDistribution.old
ren C:\Windows\System32\catroot2 Catroot2.old
At last, you have to run the services again. To turn on the

services again

, you have to type the following commands one by one:
net start wuauserv
net start cryptSvc
net start bits
net start msiserver
That's all, now exit from the Command Prompt by typing the 'Exit' command and restart your PC.
It is estimated now the Windows update error 0x80070070 is fixed.
Fix 5: Scan for Virus or Malware Infection
As it is discussed above, due to the virus or malware infection Windows 10 update error 0x80070070 has been triggered.
Therefore, it is recommended to perform a complete system scan with the help of a reliable antivirus program. There are various antivirus tools available in the market, but you should choose one that has the ability to deal with both viruses and malware.
Fix 6: Utilize the Media Creation Tool
If none of the above-given solutions works for you then try to use the Media Creation Tool to install the Windows update error. Many users confirmed this works for them to fix error code 0x80070070.
Try using the Media Creation Tool, this helps you to update an existing installation to the latest version and leave the files from where you left.
Follow the steps to use Media Creation Tool to upgrade to Windows 10:
First, download the

Media Creation Tool

.
Then open the tool > select

Upgrade this PC now

> click

Next to continue

. You can see the update start downloading the essential files, wait for the files to download.
Now choose to

Keep personal files and apps

> click

Next
And let the install one by one.
You can see the installation process will start and after the process is finished then restart your PC. You can see your system will restart plenty of times during the process and as it is finished log in with your account.
Best & Easy Solution to Fix Error Code 0x80070070
I hope the manual solutions work for you to fix Windows update error 0x80070070, but if none of the above-listed solutions works for you then here it is suggested to try running the PC Repair Tool.
This is an advanced and multifunctional tool that just by scanning once detect and fix various PC errors as well as update errors. With this, you can also fix DLL errors, BSOD errors, registry corruption, and much more.
It also repairs damaged or inaccessible system files, prevent viruses, speed up the performance, like a new PC