Are you receiving "Can't install DirectX in Windows 10" error message while trying to install any application or games? Wondering what went wrong and how to fix DirectX install error then, fortunately, you are at the right place.
In this article, you'll learn how to fix DirectX installation problem and other necessary information related to fixing can't install DirectX in Windows 10.
What is DirectX?
DirectX is a set of programs and procedures which is necessary for the functioning of Windows 10 devices, handling multimedia videos & much more. And if you a gamer or an enthusiastic 3D or video designer than the DirectX is an integral part of your Windows 10 PC.
And as said, DirectX is a set of software tools so errors and issues are likely to emerge. So, stay calm and follow the fixes given below one by one accordingly to get rid of DirectX errors Windows 10.
What Causes "Can't Install DirectX in Windows 10"?
Well, recitation the exact cause for the error Can't Install DirectX is bit difficult, as there are many different cases when the error is received by the users. So here check out some of the possible ones:
Due to the internet connection problem

After installing the latest Windows 10 update, you start facing the problem

While you are trying to reinstall DirectX Windows 10
Fix 1: Check the System Requirements
Very first you need to make sure you are having the sufficient system requirements. Well, not all the computers install Windows 10 DirectX correctly, so you must meet the system requirements first.
For installing the DirectX properly, you must have to satisfy all the below-given requirements:
OS – Windows 7 32 bit or 64 bit

Graphics Card – DirectX 12 compatible graphics card

.NET Framework 4

RAM – At least 1 GB RAM

CPU – 2 GHz Duo Core CPU
And if you don't know how to check these properties, then click on This PC > choose Properties
Fix 2: Install DirectX Previous Version
Well, some applications need an older version of DirectX to run properly. And some of the applications install the needed DirectX program by itself but in some cases, you need to do it by yourself.
So, to do it safely download the installer from Microsoft's official website. And after downloading the file install it and restart the system. And as the computer restart, you can see some of the DirectX errors are fixed, but if not then head to the next solution.
Fix 3: Reinstall Graphics Card Drivers
As it is said above to run the DirectX the graphics card driver must be compatible with it. So if the graphics card drivers are outdated or incompatible then this can cause issues.
So here try to reinstall the graphics card drivers:
Press

Windows Key + X > Device Manager.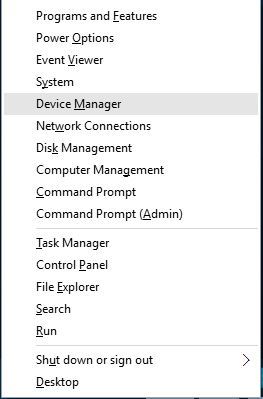 As the

Device Manager

starts > go to

Display Adapters section

> find out your

graphic card driver.

And right-click the

driver

> select

Uninstall
Then checkmark

Remove the driver software for this device

> click

OK

.
After uninstalling the driver>

restart

your system.
And as the computer restarts > navigate to your

graphic card manufacturer's website

and download the latest graphic card drivers.
Next, install the downloaded drivers.
Check if can't install DirectX in Windows 10 problem is fixed or not, or else try updating the drivers.
# Update the Drivers
To update the drivers it is suggested to go for the automatic driver updater tool – Driver Easy.
This updates the entire system drivers easily in just a few clicks. And is 100% safe and recommended by the professionals, so feel free to use it to update the drivers.
Fix 4: Reinstall the Previous Updates
Some users confirmed after updating Windows, they are facing the DirectX errors on Windows 10. And uninstalling and reinstalling the Windows update may work for you.
Follow the steps to do so:
Open

Settings app

> go to

Update & Security

.
Now go to

Windows Update

section > click on

Advanced options

.
Click

View your update history

> click

Uninstall updates

.
But before installing update research and find out which of these updates is a DirectX update.
Then uninstall that update > restart your computer.
It is estimated uninstalling the previously install update works for you to fix Can't Install DirectX Windows 10 error.
Fix 5: Download Visual C++ Redistributables
According to some users, installing Visual C++ Redistributables works for them to fix DirectX errors.
So downloading and installing this package, but if that package doesn't work check out the list of all Visual C++ Redistributables.
Download and install the other package and check if the DirectX installation problem is resolved or not.
Fix 6: Install .NET Framework
Now, try installing the .NET Framework in Windows 10 and check if the DirectX installing problem is resolved.
Go to the

Search

> type

cmd

> open

Command Prompt as Administrator

.
Now type the following command > hit Enter:

DISM /Online /Enable-Feature /FeatureName:NetFx3 /All /LimitAccess /Source:D:sourcessxs
And wait for the process to finish.
Restart your system
Well, you don't need to use the whole tool but only a part of it that allows you to install .NET Framework.
Fix 7: Download the Missing DLL Files
Well, this is a bit risky solution and can cause possible issues if not performed well. Some users reported that downloading the missing DLL files and moving them to WindowsSystem32 (32-bit versions of Windows 10) or to WindowsSysWOW64 (64-bit versions of Windows 10) folder.
Downloading the missing DLL files from the internet is not the safest, so make sure to download the missing DLL files from the official website.
Or else you can also copy the missing DLL file from another computer, but make sure another system is having the same OS you are running.
So these are the solutions that may works for you to fix can't install DirectX in Windows 10.
People Also Ask: