Open the Registry Editor again from the desktop search bar. This time we need to change the default installation folder location for new programs or software that will be installed on our Windows 10 system. Now click on the Computer and expand the subfolder "HKEY_LOCAL_MACHINE". Within this folder, extract the subfolders of the "SOFTWARE" folder, and then expand the "Microsoft" sub-folder. In this folder, expand the sub-folder "Windows". At last, double-click on the sub-directory "CurrentVersion" to see its contents.
You can see its file contents given on the right portion of the Registry Editor window in the image beneath. If you are using the operating system of 64 bit, you will find two files ProgramFilesDir, and the other is ProgramFilesDir(x86). We have to work on the PogramFilesDir in this context as presented in the image. The overall path to the CurrentVersion folder is as follows:
Computer\HKEY_LOCAL_MACHINE\SOFTWARE\Microsoft\Windows\CurrentVersion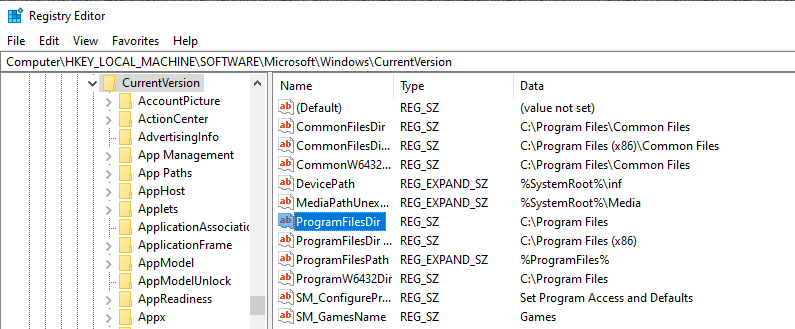 Now, right-click on the ProgramFilesDir data file and a dialogue box will appear. Tap on the first option "Modify" to change the default location of new to be installed software programs.

Now a new dialogue box window has been opened having the name "Edit String". In the text box of "Value name", you can alter the name of a directory. On the text box of "Value data", we can change the default location for new to be installed programs. Hence, change the location of programs here and tap on the "OK" button to carry on. After that, the directory location will be changed in the Registry Editor. To implement these changes, just reboot your Windows 10 system and then look for the default folder of new programs in the C directory and then in the directory you have just updated.